At Our Lady of the Angels Primary we respect proven learning practices from the past, while also supporting 21st century learning and teaching.
Our aim is to provide educational programs that are relevant and meet the needs of the individual student.They are designed to develop students who are independent, lifelong learners.
A block of time each day is dedicated to the teaching and learning of literacy. Our teachers put into practice, a wide variety of strategies that assist in the development of reading, writing, and speaking and listening skills.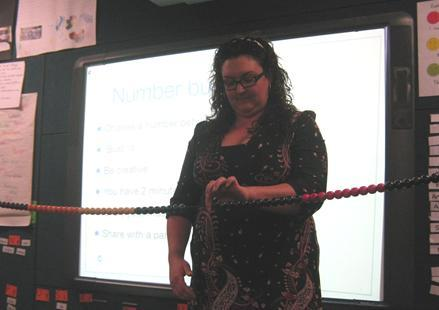 Mrs Pacella demonstrates how to use the beadstring in the Parent Workshop
Numeracy is a key focus, and our school has a dedicated numeracy block, where children from Years K - 6 are involved in Mathematics learning made up of:
teacher modeling
open-ended tasks
student directed learning and sharing
Our school is part of the Extending Mathematical Understanding (EMU) Project. It offers an invaluable and exciting opportunity for all staff members to develop their understanding of their students' learning in mathematics. With the parents in partnership, we look forward to this learning journey together over the next few years.
Project-based work forms the basis of addressing outcomes across other Key Learning Areas, as well as the integration of language and numeracy. These projects are designed so that learning is developmentally appropriate, experience-based and student-directed.